The first-ever all-test drive auto show, premiering in Long Beach June 15-17, will feature a number of eco-friendly vehicles and West Coast debuts among the more than 100 vehicles guests can test drive.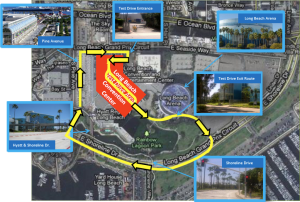 The SoCal Test Drive Expo is the nation's first-ever event that pairs a traditional auto show with the opportunity to drive virtually every car on the show floor. Taking place in the Long Beach Convention Center over Father's Day Weekend, the show will feature new makes and models from more than a dozen manufacturers and brands. Toyota and Acura are new additions to the previously announced lineup of Buick, Cadillac, Chevrolet, GMC, Chrysler, Dodge, Jeep, Fiat, Ford, Ram, SRT, Subaru and Volkswagen.
The show's unique, one-stop registration process will allow visitors to test drive dozens of different vehicles from competing brands with a single $10 admission. Some of the eco-friendly cars expected to be available for test drives include the Chevrolet Cruze Eco; Chevrolet Malibu Eco; Chevrolet Volt; Toyota Prius C, Prius V, and third generation Prius; and the Toyota Camry Hybrid. The test drives begin inside the convention center before exiting onto the course of the Grand Prix of Long Beach.
On the show floor, Subaru will showcase the West Coast premiere of the Subaru XV Crosstrek and bring the 2013 Subaru BRZ sports car for display viewing. Guests also can ride with professional 4×4 drivers on the Camp Jeep test track, an interactive adventure zone where riders experience Jeep's on- and off-road capabilities.