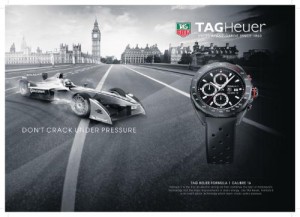 The Future is Electric:
– TAG Heuer to premiere FIA Formula E Championship season at special VIP press event inBeijing
– MOTOR-RACING'S DOMINANT SWISS WATCH BRAND IS OFFICIAL PARTNER, OFFICIAL WATCH & OFFICIAL GLOBAL TIMEKEEPER OF THE 2014 FIA FORMULA E CHAMPIONSHIP
– TWO PIONEERS: The leader in prestigious and high-end chronographs joins forces with the world's first-ever electric car open championship
Uber-cool Swiss watch brand TAG Heuer will mark the start of the world's first electric car race season on 31st August with a king-sized VIP party inBeijing, home of the new championship's electrifying season opener.
The event officially inaugurates the pioneering Swiss brand's latest adventure in motor-racing, which starts 13 September inBeijing and closes 27 June, 2015 in London. TAG Heuer is the Official Watch, Partner and Timekeeper of the FIA Formula E Championship for all ten events, a role it has played several times over the decades, for major motor-racing series and circuit around the world, from Formula One in the 1970s to Indy 500 in 20XX and the Monaco Grand Prix today.